HOW IT ALL BEGAN?
Stephanie Williams has always believed in making all-natural, from-scratch meals for her family to promote a healthy lifestyle. When it came to snacks, she wanted something more—a healthy alternative to what she was seeing in stores—so she developed her own granola recipe. Her delicious recipe quickly became a hit with family, friends and community and Stephanie seized the opportunity to quit her job and make great-tasting granola for everyone while enjoying the opportunity to spend more time with her children. Today, Stephanie and Oh-Mazing are allowing people everywhere to create an abundance of Oh-Mazing! moments.
"Our company does not just want to sell granola, we want to inspire others to be the best versions of themselves. Our life motto is: Be Extraordinary, Be Adventurous. Be Oh-Mazing."
-Stephanie Williams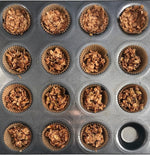 Why Oh-Mazing?
We began with a love of family and friends, and an opportunity to make a change:
Change in the amount of quality time spent with family.
Change in the way every person can live their beautiful lives with a healthy snack to fuel the fun.
Change in how we look at food when we gather and when we are on the go.
Be Oh-Mazing!
Whether you're hiking in the woods, commuting to work, or simply laughing around a table with friends, Oh-Mazing! products bring a sense of adventure to the everyday. We hope you'll take us on your journey.
Be extraordinary. Be adventurous. Be Oh-Mazing! Share your #ohmazingmoments.