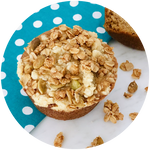 If there was anything to be grateful for in 2020 and now 2021, it was the opportunity to spend more time at home with my children and find a renewed passion for baking. I made so many different baked goods during the pandemic but it was these healthy and delicious banana muffins that won everyone over. When topped with our Original Recipe granola, these gorgeous muffins had just the right mix of moist and crunch. Not into muffins? This recipe also works very well for banana bread!
Ingredients:
1 1/2 cups all-purpose flour
½ teaspoon baking soda
1 teaspoon baking powder
1/2 teaspoon salt
3 bananas, mashed (about 1 1/2 cups)
3/4 cup turbinado sugar (Sugar in the Raw)
1 egg, lightly beaten
1/3 cup butter, melted
1 teaspoon cinnamon
1/2 teaspoon nutmeg
Directions:
Preheat oven to 375*.  Lightly grease about 10 muffin cups or line with paper. 
In a large mixing bowl, whisk together flour, baking soda, baking powder, and salt.
In a separate bowl, mash the ripe bananas with a fork. Add the sugar, egg, melted butter, cinnamon, and nutmeg and beat together. 
Stir the banana mixture into the flour mixture until it is just combined.
Fill each cup in the muffin pan to about ¾ full and top with crumbled Oh-Mazing Original Recipe granola.
Bake for 15-20 minutes or until a toothpick inserted into the center of the muffin comes out clean. 
Sit back and enjoy this tasty treat!