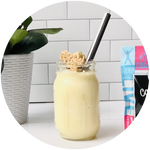 Lately, I've been dreaming of sitting on a white sand beach on a Caribbean island somewhere and dipping my toes into the clear blue water. The waves are crashing in the distance and reggae music is playing softly nearby. I am reading a mystery novel that I cannot put down and sipping a gorgeous pina colada with a fancy umbrella poking out the top. Even though I cannot transport myself to this calming oasis, I can easily put my tastebuds on vacation with this simple three-ingredient pina colada breakfast smoothie. It is super easy to make in only five minutes and easily vegan-friendly!
Ingredients:
1 cup frozen pineapples
½ cup unsweetened coconut milk beverage
Pure Maple syrup to taste (I added about 1 teaspoon)
Oh-Mazing! Caribbean Delight Granola
Directions:
Add pineapple, coconut milk, and maple syrup to your blender and blend until smooth.  
Top with Caribbean Delight granola.
Pour into a fancy glass, toss on some sunglasses, and transport yourself for a few minutes to paradise before you start your day.