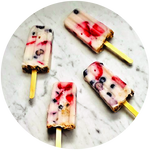 Don't save these for the fourth of July! These healthy breakfast popsicles are great for any on-the-go breakfast or as a cool treat on a hot, sunny day. Made with yogurt, fresh berries, and Oh-Mazing granola, these popsicles are definitely cause for celebration any day of the week. The recipe calls for plain yogurt but we swapped in coconut milk yogurt for my son who is lactose intolerant and the popsicles were just as tasty.
INGREDIENTS:
1 1/2 cups of unsweetened plain yogurt  
1/4 cup of pure maple syrup
1 1/2 teaspoons of pure vanilla extract
1 1/2 cups of fresh blueberries and sliced strawberries
Oh-Mazing Snackable Granola: Lemon Bar Flavor (or Original Recipe works well too)
EQUIPMENT:
Popsicle Mold (we ordered ours here)
Silicone spatula or spoon
Small Mixing Bowl
Gather all of your equipment, and measure your ingredients. Set aside.
Mix together thoroughly the yogurt, maple syrup and vanilla.
Gently fold in the fruit to the yogurt mix.
Scoop the mixture into the popsicle mold and leave about a 3/4 inch of space at the top.
Top the yogurt mixture with crumbled granola.
Cover the popsicle mold, insert popsicle sticks, and freeze for 2 1/2 hours.
Enjoy!