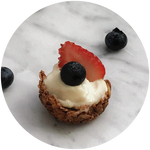 It's brunch time, baby! Our miniature granola cups make a great base for so many sweet treats to go with a brunch or afternoon tea, or as a dessert base. These cute cups are easy to make and can be filled with any yogurt, custard, fruit, or mousse and set aside, ready to serve. Or make a cool treat with ice cream or frozen yogurt to satisfy your sweet tooth without blowing your diet!
Ingredients:
1 cup Original Recipe granola (or Lemon Bar granola)
3 tbsp water
Equipment:
Small bowl
Small mixing spoon
Mini cupcake pan
Mini baking cups
Mini tart shaper (available from Pampered Chef)
1. First, gather all of your ingredients and supplies. Preheat the oven to 300 degrees F.
2. Combine the Oh-Mazing Original Recipe granola and 3 tablespoons of water in the small bowl and mix thoroughly.  
3.  Set the mixture aside for 10 minutes to soften.
4.  In the meantime, place 15 baking cups in the mini muffin pan. 
5.  Once granola mixture has softened, loosely fill each baking cup to about 3/4 full.  
6. Press the granola down with the mini tart shaper and slightly rotate until you get your desired shape.  Tip:  You can use your thumb or a plastic water bottle cap if you do not have the tart shaper.
7.  Bake for 15 minutes or until golden brown and firm to the touch.  Check frequently because these can burn quickly.  
8.  Remove from the oven a let them cool to room temperature
9. Gently load the granola cups with your desired filling and enjoy!