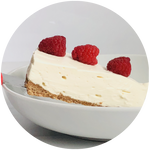 INGREDIENTS
1 ½ cups Oh-Mazing Granola (Original or Lemon Bar flavors)
¼ cup sugar
½ teaspoon cinnamon
4 tablespoons butter, melted
16 ounces cream cheese at room temperature
14 ounces sweetened condensed milk
¼ cup lemon juice
1 teaspoon vanilla
DIRECTIONS
Preheat oven to 350 degrees F.
Crust:
Combine granola, sugar, cinnamon, and melted butter.
Place mixture in a 9-inch pie dish and spread out evenly to cover the bottom of the dish. Bake at 350 degrees F for 15 minutes.  
Filling:
Using a mixer, beat cream cheese in a bowl until smooth.
Add the sweetened condensed milk and beat until well incorporated and smooth.
Add lemon juice and vanilla and mix.
Scoop filling into the pie dish and smooth over the crust. Cover tightly with plastic wrap and refrigerate for 3 hours.   
Recipe provided by Camera Shy Cooking; slightly modified by Oh-Mazing Food.