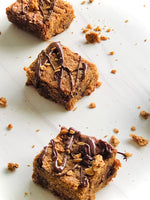 Packed with protein and a classic combination of peanut butter and chocolate with a twist... our Original Recipe granola, these peanut butter blondies are  irresistable!  Try them and let us know if you agree!
INGREDIENTS:
2 eggs beaten
1 cup of unsweetened natural peanut butter
1/2 cup of packed brown sugar
1/4 cup butter melted 
2 tsp vanilla
3 tablespoons flour
1 tsp baking powder
1/4 tsp kosher salt
1/2 cup Original Recipe granola snack crumbled
3/4 cup of dark or semi-sweet chocolate chips
DIRECTIONS
1.  Preheat oven to 325 F and line 8" square pan with parchment paper
2.  In a large bowl, mix together eggs, peanut butter, brown sugar, butter, and vanilla
3.  Combine flour, baking powder and salt separately in a small bowl and add flour mixture to the wet ingredients. Mix until just combined.
4. With a spatula, stir in granola and 1/2 cup of chocolate chips. Spread mixture evenly in the baking dish
5.  Bake for 30 minute or until center is set.  Do not overbake or the blondies will dry out.  
6.  Melt remaining chocolate chips for 30 seconds in the microwave.  Watch closely so the chocolate does not burn.  Drizzle chocolate on blondies and top with additional crumbled granola.   Let set of 2 hours before serving.  Enjoy!